Our Company at a Glance
Finding the right company and receiving a structured cabling installation is not the end of your cabling story. In some ways it is only the beginning. Ultimate Cabling Services meets and exceeds expectations from the start of your project and throughout the life of your network infrastructure.
We are dedicated to developing long-term relationships with our clients and we take pride in our commitment to providing top quality work that is clean and organized. We respond to all customer requests for service in a timely and professional manner long after the initial installation.
All of our installation technicians are properly trained on current cabling techniques and demonstrate the highest level of professionalism and dedication to quality. Upon completion of every project, we will provide a full documentation package which includes cable certification reports and as-built drawings.
Ultimate Cabling Services is a fully insured low-voltage cabling contractor and specializes in the design and installation of structured cabling systems throughout virtually every industry. Our cabling structure designers will assist in designing a system that not only meets your current needs but is also able to accommodate any modifications due to remodeling, expansion, or equipment upgrades.
We work closely with architects, general contractors, electricians, phone system vendors, furniture vendors and others to ensure proper integration.
Our Key Solutions
Structured Data Cabling
Fiber Optic Cabling
Wire Management
CCTV Solutions
Access Control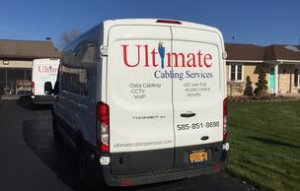 Our Promise
"With our team having over 20+ years of experience, we have encountered many different unique situations. In this line of work, one solution certainly does not fit all. It is important to realize that your company is unique and has specific wants and needs to be successful. We will not try and sell our solution based solely on the best looking margins. We will give our honest opinion on which solution is best for you and cater it to your needs."